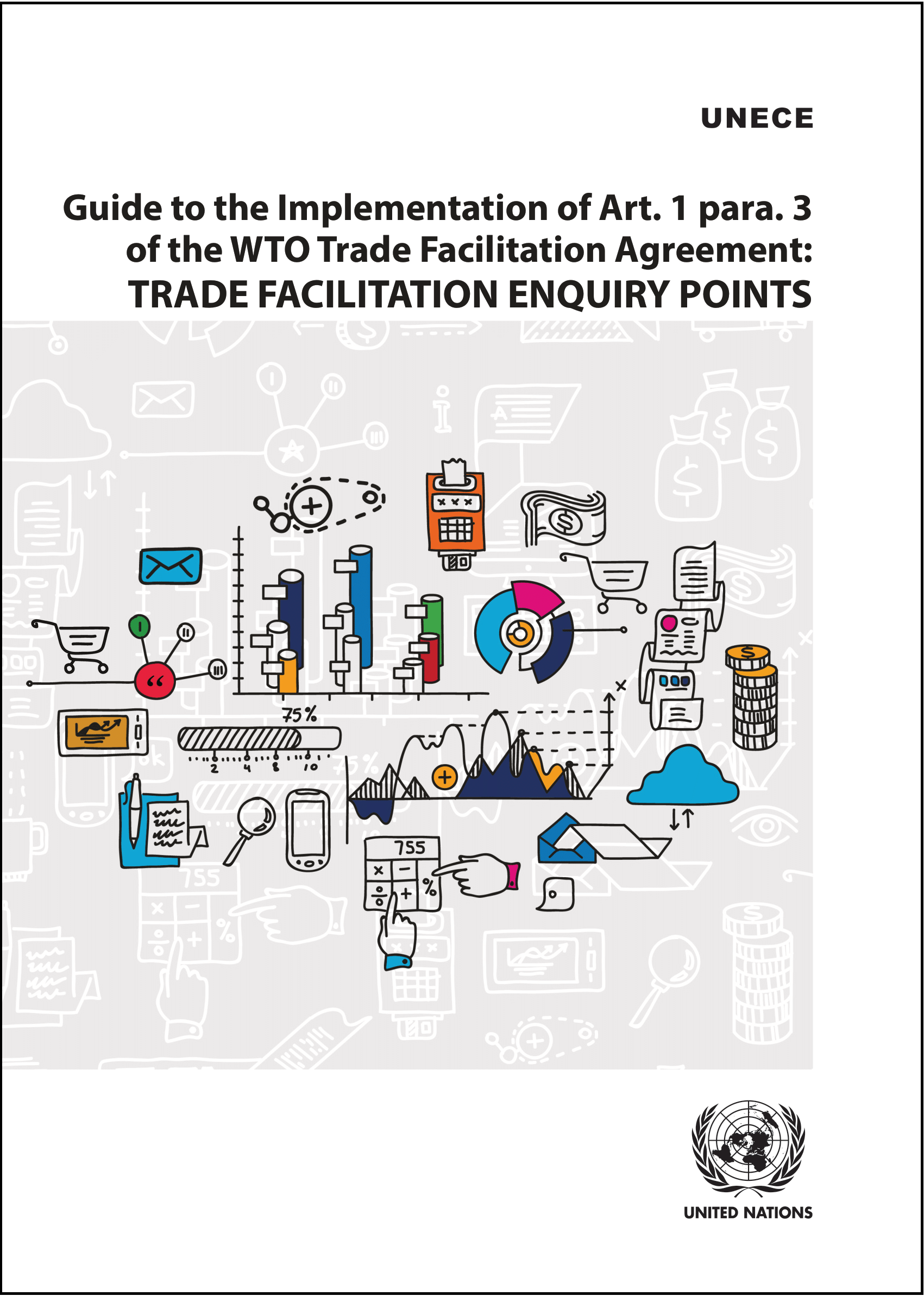 25 April 2022
Short description
Russian version: РУКОВОДСТВО ПО ПРИМЕНЕНИЮ СТ.1.3 СОГЛАШЕНИЯ ВТО ОБ УПРОЩЕНИИ ПРОЦЕДУР ТОРГОВЛИ:
«ИНФОРМАЦИОННЫЕ ЦЕНТРЫ»
The World Trade Organization (WTO) Trade Facilitation Agreement (TFA) entered into force on 22 February 2017. The United Nations Centre for Trade Facilitation and Electronic Business (UN/CEFACT) defines trade facilitation as "the simplification, harmonization and standardization of the procedures and associated information flows required to move goods and provide related services from seller to buyer such as payments"1. Trade facilitation can help simplify, standardize, harmonize, and modernize international cross-border trade, thereby increasing trade volumes and making international trade faster and cheaper, as well as more accessible for small and medium-sized enterprises (SMEs) and landlocked developing countries. Trade and trade facilitation have the potential to contribute to resilient, inclusive and sustainable recovery after the pandemic.
According to Art.1 of the TFA, WTO members shall promptly publish information related to international trade to enable WTO members (and all interested parties, accordingly) to acquaint each other with their trade rules and ensure transparent and predictable conditions of international trade. WTO members are also encouraged to make available further trade-related information on the Internet and to establish or maintain enquiry points. In compliance with TFA Art. 1.3 these enquiry points should provide the necessary information.
While discussing access of the private sector to information at regional meetings, the National Trade Facilitation Committees of the SPECA participating countries proposed to develop a guide on how to establish trade facilitation enquiry points. The Working Group on Trade of the United Nations Special Programme for the Economies of Central Asia (SPECA) proposed to develop this Guide on how to establish and maintain enquiry points in the framework of the SPECA Trade Facilitation Strategy with the objective to provide practical assistance to countries. This Guide was developed under the auspices of the UNECE within the United Nations Development Account project Transport and Trade Connectivity in the Age of Pandemics5. The draft Guide was discussed and endorsed at the 16th session of the SPECA Working Group on Trade on 16 November 2021 in Tashkent. The Guide is developed in such a way that it can be used in any United Nations member State, while in certain cases, we will add texts for illustration, referring to the SPECA participating countries.
The way forward would be the promotion of the use of this guide, together with the WTO and various development partners, to create or support efficient enquiry points around the world in general and the SPECA participating countries in particular.